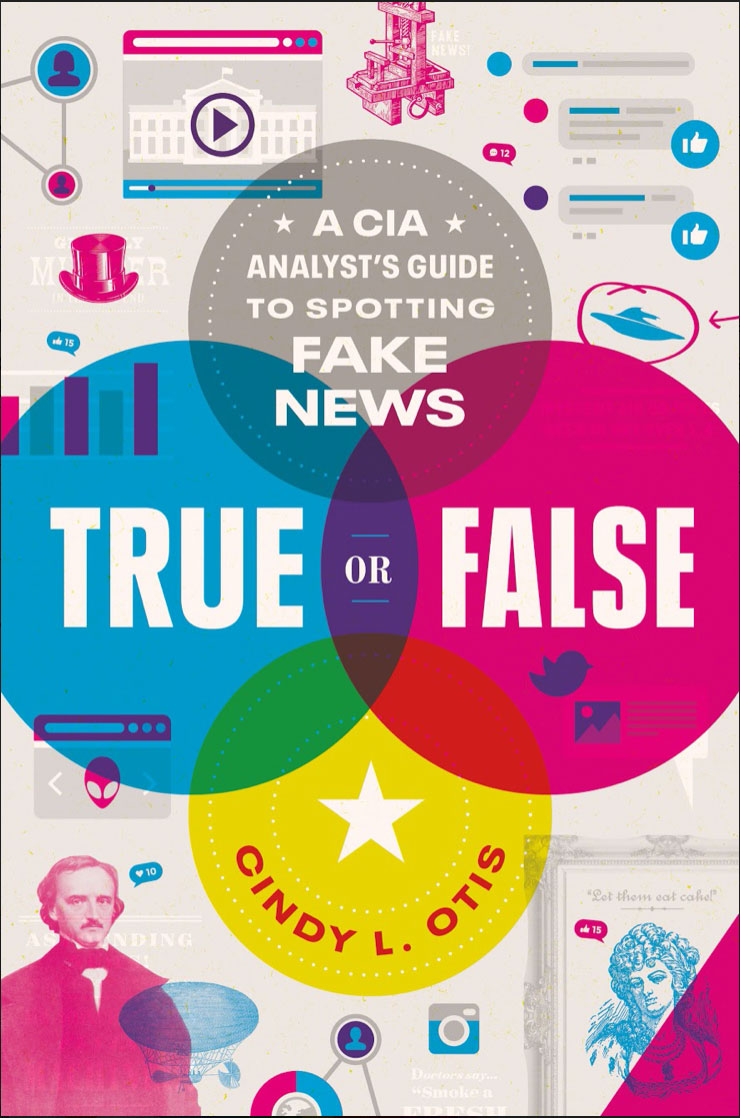 -"If I could pick one book to hand to every teen—and adult—on earth, this is the one. True or False is accessible, thorough, and searingly honest, and we desperately needed it." —Becky Albertalli, author of Simon vs. the Homo Sapiens Agenda-
A former CIA analyst unveils the true history of fake news and gives readers tips on how to avoid falling victim to it in this highly designed informative YA nonfiction title. 
"Fake news" is a term you've probably heard a lot in the last few years, but it's not a new phenomenon. From the ancient Egyptians to the French Revolution to Jack the Ripper and the founding fathers, fake news has been around as long as human civilization. But that doesn't mean that we should just give up on the idea of finding the truth.
​
In True or False, former CIA analyst Cindy Otis will take readers through the history and impact of fake news over the centuries, sharing stories from the past and insights that readers today can gain from them. Then, she shares lessons learned in over a decade working for the CIA, including actionable tips on how to spot fake news, how to make sense of the information we receive each day, and, perhaps most importantly, how to understand and see past our own information biases, so that we can think critically about important issues and put events happening around us into context.
Are you a teacher? Download the free classroom resource guide here: TrueFalse_TeachersGuide.
Karen McManus meets Courtney Summers in a ripped from the headlines YA thriller about if QAnon conspiracies played out in a high school. Starring a girl who uses a wheelchair.
Quinn was supposed to be having an epic junior year―not finding herself a third wheel to her best friend who suddenly has a new boyfriend and watching her older sister turn herself into a pretzel trying to make sure she has the best college applications possible. Which leads to Quinn's sister joining a new club at school called Defend Kids that is working to help find the Turner kids who were kidnapped from a nearby town.
Suddenly the new club is all anyone is talking about, and it's even helping Quinn grow her own social media platform. She runs an account about the goings-on around school and town and she notices loads of new followers every time she post about the missing Turner kids. When two of Quinn's classmates are kidnapped, suddenly the dangers that Defend Kids are trying to fight are all too real.
As the town comes out in search of the missing kids, tensions escalate around the school, there's an uptick in social media trolling and bullying, and conspiracy theories abound. Before she knows it, Quinn is at the center of it all, trying to find out what's going on and who's behind it. Because if she doesn't . . . Ava might just be pulled into something more dangerous than anyone ever imagined.
Add AT THE SPEED OF LIES to your reading list on GoodReads here and Pre-order now!